The Ring of Fire trip, August 26th, 2013; Day Twenty-Three of Thirty-Two.
The Tongariro Alpine Crossing is a world famous hike and is known as the best day hike in New Zealand (One of their "Great" hikes). It is 19.4 km one way and requires crampons, an ice pick, and gaiters in the winter, none of which I had but I figured I could make it work. In the summer, you can hike it without any special equipment. The traction I had for my shoes are generally meant for walking around town on icy sidewalks, but it was better than nothing. The key to hiking alone is to know your limits and do not push them, especially in another country. And, of course, always let someone know where you are going. Don't end up like this guy:
Hiker Survives Tongariro Fall
. I was going to hike it on a Monday during the end of their winter so I did not expect many people to be on the trail, which sounded fantastic to me.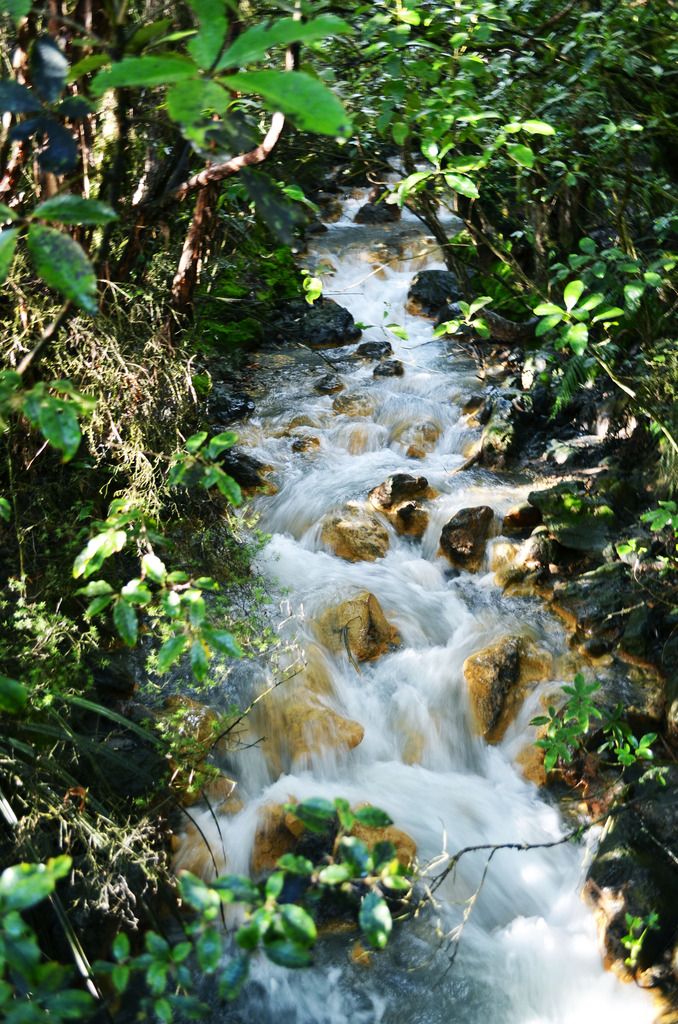 I started about 9 am, after checking into the ranger station and returning to the car once to grab a few extra things, as it was misting out and I was to head into the jungle to start. There were no other cars in the lot. My wish had been granted! The jungle was lush and green, with waist high ferns covering much of the floor and thick brown and green twisting branches created a dense covering on both sides of the trail. The trail followed a stream that moved quite fast and had a cloudy color to it as if taken from the lens of a camera with a long exposure. I assume it was sulfur from the surroundings. It reminded me of a drawing by Allen Lee from his LOTR interpretations.
Eventually I made it out of the jungle and into a giant open landscape. There were tan grass-like bushes coupled with boulders and lava flows from the active volcano nigh with stream running every direction. This spread out as far as I could see and provided an amazing view of the lake below and what was to come. No sign of Mount Ngauruhoe (Mount Doom for any LOTR fans) yet but i knew it was ahead. It was quite impressive even at the end of the winter and I enjoyed the solitude and such a stunning place.
I made it to the first shelter, Ketetahi Hut, a little more than an hour faster than the map had said and took a brief rest inside from the zero degrees Celsius weather. It was a nice enough hut and could provide life-saving shelter if needed. I am glad I had all my layers on. As I continued on, I passed another steam and finally set my eyes on one of the prized views of the trek: The Te Maari Crater. In fact it had just a year before. It had steam billowing out of it's side and the other two had small amounts of snow upon them. They were on the other side of the valley and not part of the hike, but are known to be the most active on the island.
The snow wasn't too bad when I reached it halfway into my hike but it did slow my pace down a bit, as expected. A slip wouldn't have done much harm here but would be an annoyance and get me wet, possibly leading to hypothermia. So, i took my time and made sure my feet were planted firmly. I hiked a little more and the snow was more or less covering everything except for a few rocks. It was starting to look more like an alpine crossing and I could see why crampons could be a big help. While it was snow, it had melted and refroze so it had the crusty icy top to it and makes it extra slippery. But, it was not match for this nimble hiker!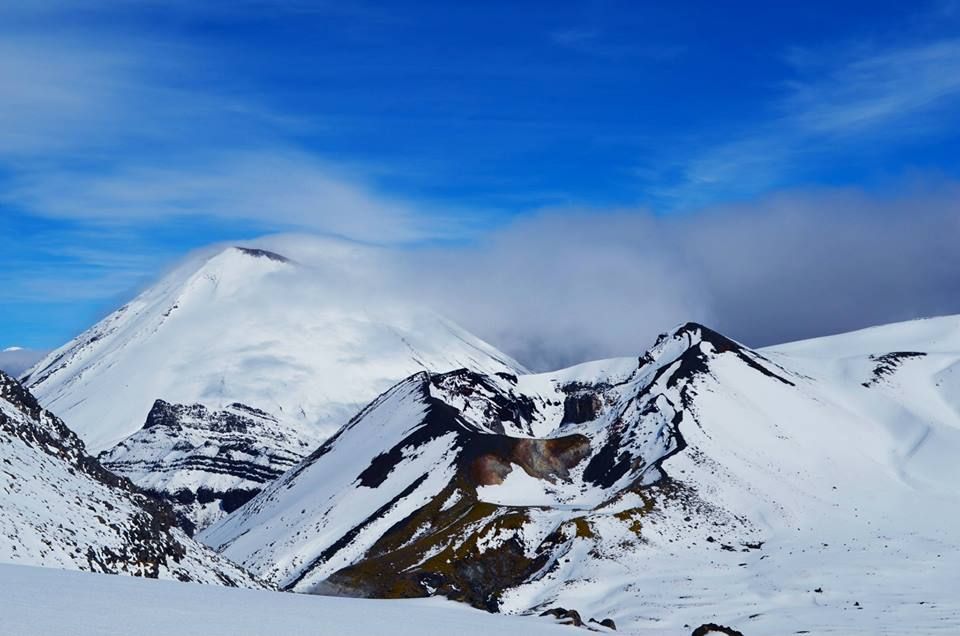 I arrived at the top of climb to find a snow covered valley below and Mount Ngauruhoe towering above.The clouds began to clear out and I could see the sun and the sky, perfect timing. The clouds moved in quickly and blocked my view from time to time. Continuing on the snow covered trail, I had to cross a snow patch that was on the side of a hill. So, the angle would be great for sledding, barring the rocks, but not so good for hiking in snow. It was the ice covered snow and a fall would be detrimental here as it may be tough to bring yourself to a stop. It took a lot of effort and I had to dig in to ensure my footing was good and moved on to the next step. In order to keep a low center of balance I used my knee to dig into the snow as well. Definitely a tough crossing but not too bad in the end. It was almost at my limit and crampons or an ice axe would have been a nice luxury. I did have a rock in my one hand as well to dig in for extra insurance.

Once I got to the end there was a frozen lake within a crater to my left and amazing views of volcanoes to my right. One of those places I will never forget. The wind was almost unbearable as it came over the ridge. So, I hiked a little higher and took some pictures. Then I the clouds moved just enough that I could get some pictures of Mount Ngauruhoe, before deciding to make my way back. It is shaped like one of those volcanoes you would draw as a kid; a perfectly symmetrical cone and was covered with snow. It reminds me a lot like Mount Fuji in Japan that i hope to climb one day. Between that, the like, and the views it was a great hike. I do have a habit of taking pictures and walking, which is not something smart to do on a snow covered ridge. I ended up tripping over a nice little volcanic rock that showed my leg that it there and that I should pay more attention. Dumb.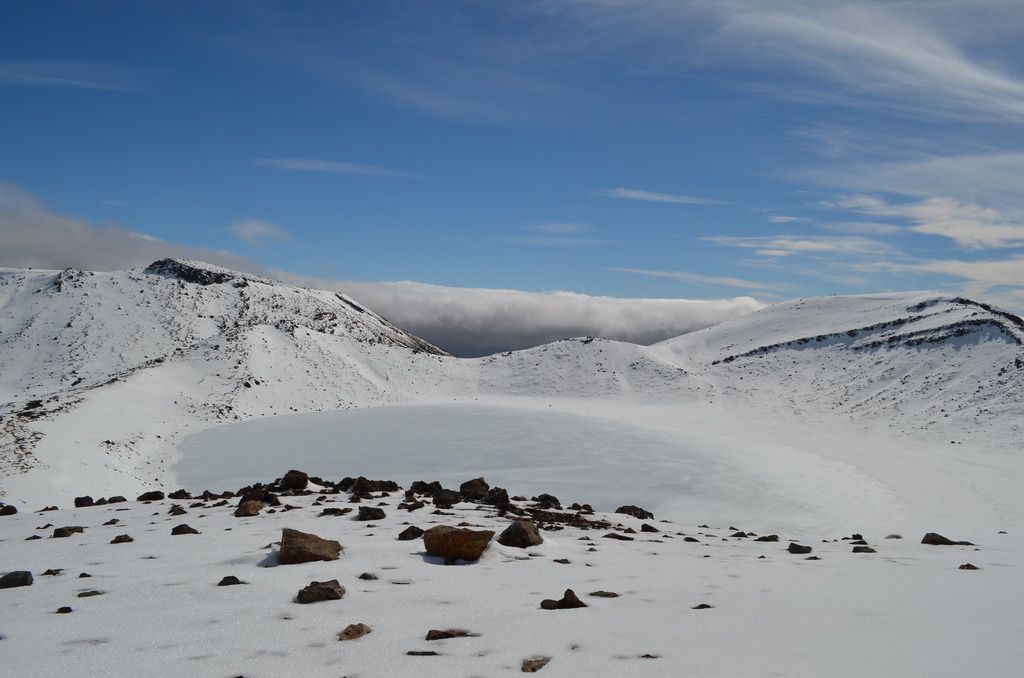 I also saw a group crossing the plains below so I knew I was not alone anymore. They had all the equipment needed, provided by their tour guide, and had done the entire trek. I will have to return to finish the rest for sure. Across the hill, and through some of the snow I was able to pass most of the group easily and came across the front two down in the bushy fields. One was the tour guide and the other a Japanese girl. They snapped a few pictures for me and I went on my way. I had gotten quite a lead on them so I decided to have a quick lunch and enjoy the views. After about five minutes the Japanese girl came by and passed me. I eventually caught up to her again and ended up walking the last few km back with her. It is sometimes nice to hike and talk with someone along the way, and I enjoyed the company. She was on a work visa in New Zealand for a year and so is seeing the sights. I definitely need to look into doing a work visa somewhere. The guide had offered me a ride since she thought I was hitch-hiking but I had my little car; hikers are so nice and especially guides.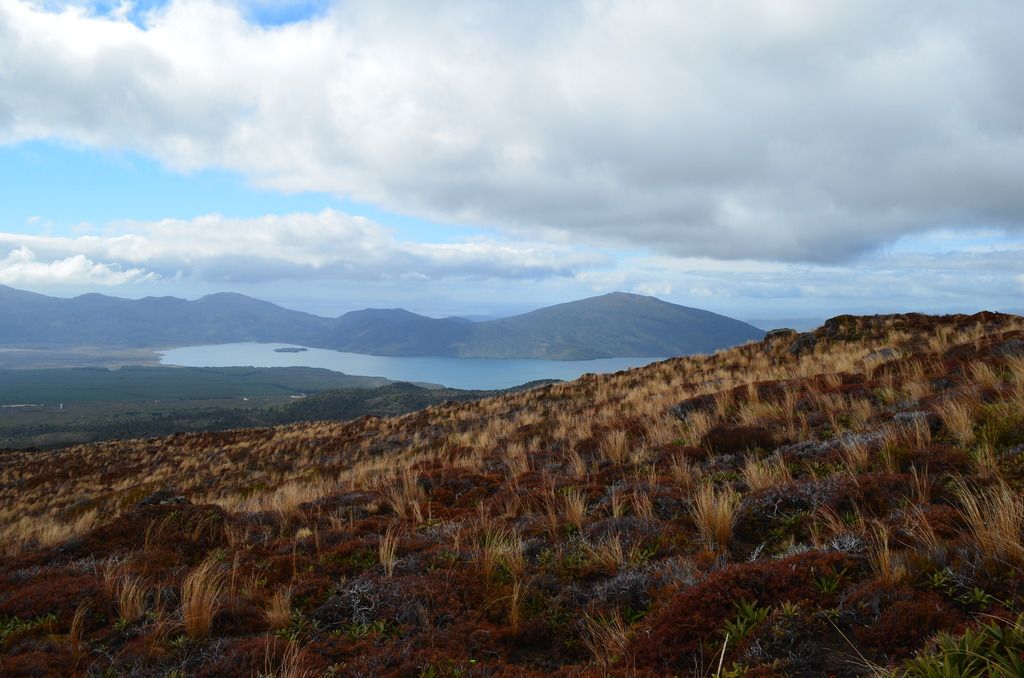 At the bottom we parted and I made my way north to the town of Taupo to get an early dinner. The lime and chili marinated chicken was to die for and the bread, olive oil, and volcano salt were a neat addition. Afterwards, I found the craters of the moon park and made my way to it. The gate was closed to cars so I walk/ran (in my loafers as the boots were not going back on) and found that there was another gate to get in that was locked. Walking back I was able to see from a hill that it was a geothermal walk and looked pretty neat. There are more up in Rotorua where I finally ended up for the night and will spend some time tomorrow. I'm going to sleep well tonight.
A
Map.
A
Birds Eye View
of the crossing (that i love).
Read the full trip chronicles, here.