Maine & Nova Scotia, June 2015; Day Three of Eight
Mount Katahdin and the Knife's Edge has been on my bucket list, as it is an astonishing hike with killer views but an arduous climb to boot.
We woke up around 5:30 to get an early start as we had no idea what the weather would provide us. It was only sprinkling at this point so we got on the trail at 6:15. The first trail we hiked was chimney pond, a 3.2 mile trail one way that ends at a ranger station. It is rated moderate but with everything being wet, slippery, and as we were basically hiking up a stream it took as about 2.5 hours but we were able to stay dry and out of the water.
We hung around the station for a few minutes to read the weather report at the base and refuel on food and water. Once the ranger showed up we discussed various routes and ultimately decided to go up the cathedral trail since it was fairly dry and would be an amazing hike, albeit very strenuous. At the summit we would have to decide if the winds would allow us to hike across the Knife's Edge.
The trail was basically a big boulder field the entire way and would be slow going but only 1.7 miles long. It was called the Cathedral because there were three "peaks" you would climb along the way to the summit. As I am particularly
nimble
and can rock-hop quickly, it was all fun finding the route up and around the boulders. However, Dawn took her time a little more. After all, it is a pretty strenuous hike. We made it to the summit a little before noon and took in the views. Even with some fog, it was far out (I will return on a clear day to hike it again). The wind was not very strong and there were only three other people on the summit. We had the mountain pretty much to ourselves and decided to traverse across the Knife's Edge.
It is only a 1 mile trail but can take around an hour to complete, depending on how quickly you can "hike" across rocks and if you have a fear of heights. It is called the Knife's Edge as it is along a point with ledges on both sides, but usually not at the same time.
The trail can be dangerous as it has claimed 44 lives since they started keeping track in 1926 along with countless injuries as you are fully exposed. It is no joke. We hiked on,
I had to,
and there was no way around it. The hike itself is slow going and there are a few climbs plus many pictures were taken along the way. Through holes in the fog we could make out the views ahead of us and below but not for long before they would vanish.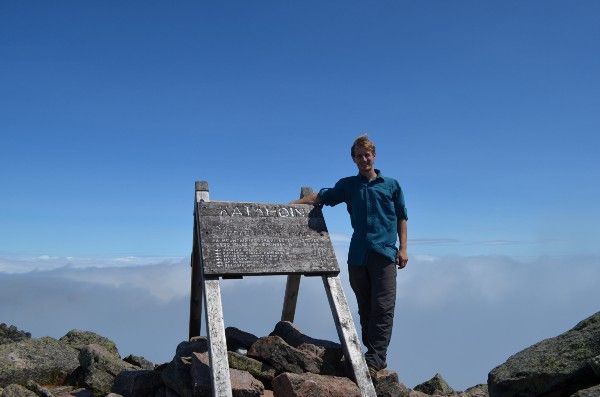 We made it to the end of the ledge and had a 30 foot climb down to a valley and then 30 feet back up the other side. I believe it is called the Chimney and is not really a climb but sure looked like one as we saw other hikers descend the part we had to go up; more of an extreme scramble. This hike was definitely the most technical hike you could do without being called a climb (aka using ropes and other protection)

To be continued...