Maine & Nova Scotia, June 2015; Day Two of Eight (continued)
After a stop at local coffee shop, we headed South on the park loop. The first stop was the Precipice trail. It is one of the best hikes in all of the national parks and is only a few miles long. It travels up a cliff side and offers amazing views along the way. I had done it before but would do it again in a heartbeat.
Unfortunately, it is also closed every year due to the protection of the Paragon Falcons that nest along the route, so we were not able to attempt it (believe it is June to August). This is probably for the better as it started to rain heavier again.
There is also a lesser known cave that splits off the trail that we were going to try to find but since it was closed this was also shut down. The beehive is also an unbelievable trail but the rain and being on an exposed cliff was not justifiable. Instead we headed down towards Thunder Hole; a place where the water rushes up a cove and crashed against the rocks but as it was low tide and pouring we did not see a whole lot of action or stick around for high tide.
The sand beach was next on our list. It is one of the few sand beached in Maine so is unique to see and who doesn't like the beach? It also has the ocean on one side with a small lake on part of the back half, creating a beach in the middle of two bodies of water, albeit it is a pretty small beach.
We jumped back on the park loop and headed towards to Bar Harbor to explore a little more before making our way to Baxter State Park. At low tide, one is able to walk out to Bar Island as long as they return within two hours of when low tide occurs they will have no issue getting back. We found the launch point and drove down onto the part you could walk across, we could have drove the whole way if we didn't fear getting stuck.
At this point we decided to start making our trip north; it was around 3 PM and had a 140 mile, 3.5 hour long trip. Along the way we made sandwiches in the car and found a local brewery in the town of Orono, Maine. They had a few nitro-beers which gave it a smoother texture that we tried. We played cribbage as we sipped on the sampler paddle.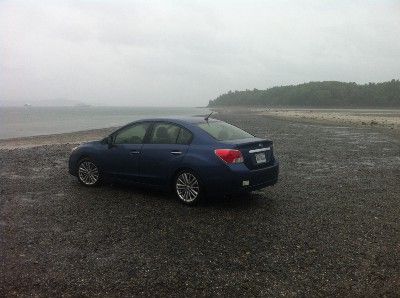 Back on the road we headed for Baxter and arrived in Millinocket shortly before 7. Millinocket is the last town before you take one of the few roads into the park. After gassing up, buying some milk, and getting some butter from McDonald's, we finally made it to Baxter State Park around 8:30. The major draw of the park is hiking Mount Katahdin, the highest mountain at 5,270 feet and the northern terminus of the Appalachian Trail (look it up, it is one of the longest trails in the states).
Anyways, after a quick mac 'n cheese (hence the milk and butter) dinner along with boiling eggs with a little ham thrown in, we hung out with the other people in the bunk house we were staying at due to the fact that all the sites were booked up.
It ended up being a good decision as a few boy scouts were in there (held a total of 12 people) and provided some good conversation and advice on routes to take up Katahdin. They were also playing cards and using yogurt covered raisins as the wager. Another hiker was also going to attempt a solo ascent in the morning if the weather held. At this point it had pouring all night when we retired to our bunks at 10 after getting our packs ready hoping for a chance at an early start.
To be continued...